Hearty vegetables and melt in your mouth chunks of flavorful beef make this Instant Pot Vegetable Beef Soup one of our favorite soups to make!
How to Make Vegetable Beef Soup in the Instant Pot
One of the reasons that we love making beef soup in the instant pot is because you can do everything all in one pot. You start by using the saute mode and cook the beef until it is nice and brown and a bit crispy on the outside to really lock in the flavor.
Once that is done, you just add all the other ingredients to the pot and let it do its thing. The way the instant pot uses pressure to cook the soup makes the beef unbelievably tender and the vegetables perfectly soft.
How Long Do you Cook Vegetable Beef Soup in the Instant Pot
Instant Pot cooking times can be deceiving, because the actual cooking time is a lot different from the amount of time that it actually takes to be done.
For example, this Beef Soup recipe says to cook the soup on high pressure for 7 minutes. That sounds pretty amazing right? Only 7 minutes until an amazingly flavorful beef soup is on the table?
Wrong. The cook time starts with the Instant Pot has heated up to temperature. The amount of time that takes varies on how full your Instant Pot is. For this recipe, it takes around 20 minutes to heat up, and then the 7 minutes will start counting down.
After it has cooked, some recipes say to let it 'natural pressure release'. That means that you don't switch the valve on top to venting until all the pressure has released and the little round silver pop up button has dropped down. This also can take quite a while. For this recipe, the natural pressure release can take up to 30 minutes!
So all in all, once everything is in your Instant Pot and the lid is on, it can take up to 57 minutes! It is really important to factor in the other time when you are planning to make dinner or you might have some hangry children on your hands!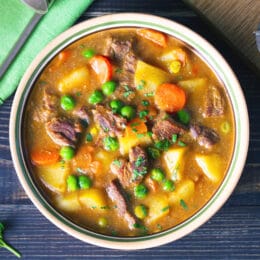 1 pound beef stew meat1/2 medium onion diced2 cloves garlic minced3 stalks celery diced3 medium carrots diced3 medium potatoes cubed in bite size pieces 2 14.5 ounce cans diced tomatoes1 cup frozen peas2 cup water2 cups beef broth1/2 teaspoon salt1/2 teaspoon black pepper, ground
Set your Instant pot to sauté setting.  Cook meat and onions until brown and onions are soft.
Add all the other ingredients to the Instant Pot.
Put the lid on and lock into place.
Click the manual button and set the time for 7 minutes. Allow it to naturally release pressure for 25 minutes, and then do a quick release.
Remove lid; stir and add more salt and pepper to taste, if needed. Serve.
*Add frozen peas to your kids bowls to cool down the soup 🙂 
Serving: 6g | Calories: 332kcal | Carbohydrates: 37g | Protein: 33g | Fat: 7g | Saturated Fat: 2g | Cholesterol: 70mg | Sodium: 736mg | Potassium: 1477mg | Fiber: 7g | Sugar: 3g | Vitamin A: 7778IU | Vitamin C: 26mg | Calcium: 113mg | Iron: 8mg