After taking on Gennady "Triple G" Golovkin and Rocky Fielding while winning multiple title belts in his last two matches, boxer Canelo Álvarez is ready for his next challenge. Álvarez will be facing off against Daniel Jacobs in a middleweight unification bout at the T-Mobile Arena in Las Vegas on Saturday, which will be exclusively streamed on DAZN in the U.S.
5 Boxing Workouts That'll Get You in Fighting Shape
As one of the most skilled fighters in the world, Álvarez puts a lot of time into his training, his diet, and his recovery. On most days, Álvarez wakes up around 6 a.m., trains for a few hours, eats a solid breakfast, takes a nap, and then does another training session for a few hours.
"Routine is everything for me because boxing is very much driven by routine. It requires a certain kind of discipline to become a great boxer," says Alvarez. "I'm very disciplined about my diet when I train, too."
Amanda Westcott / DAZN
The Beginner's Guide to Boxing Workouts
Álvarez spoke with Men's Journal ahead of his fight against Jacobs to talk about how he trains, the most important workout for boxers, and what it feels like to win a world title. Álvarez also previously shared some of his boxing workout plan, which you can check out below the Q&A.
Álvarez will face off against Daniel Jacobs in a middleweight unification bout on Saturday, which will be exclusively streamed on DAZN in the U.S. Check here for more info on how to watch the fight from DAZN.
Men's Journal: What's the single most important workout you do to train for a world title fight?
Canelo Álvarez: Physical conditioning, because fights are very tough and very hard. You have to have the conditioning because if it doesn't go quick, if it goes into later rounds, you have to have the physical conditioning to be able to compete. Specifically, there's a few, running is one, and you also have to change up the speeds, so that you can get your heart rate up and down. Working on the heavy bag helps as well.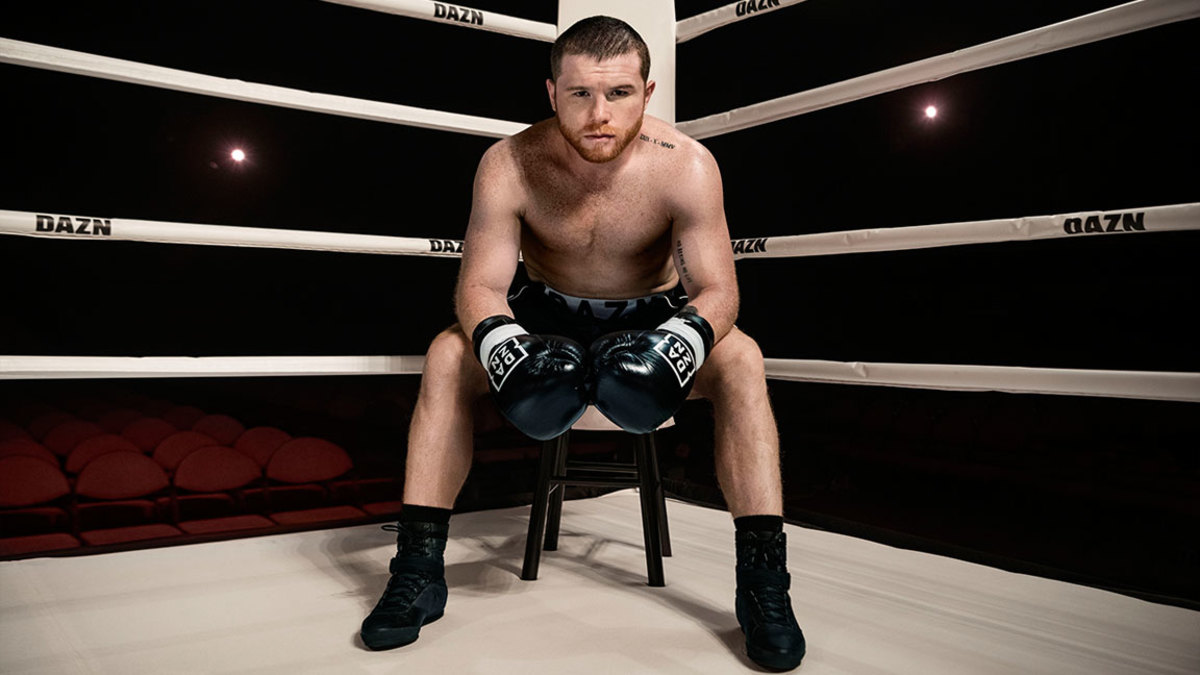 DAZN
What's your diet like when you're preparing for a major fight?
Nothing too strict. I have eggs in the morning, fish, chicken, vegetables. Just healthy eating keeps me in the shape I need to be in.
What's the biggest challenge for you when you're in a training camp?
The biggest challenge in camp is to make sure you get to 100% so you give 100% in the fight as well.
"No matter where you are or where you come from, you can become what you want .. You have to make sacrifices, but in the end it's worth it."@Canelo #CaneloJacobs 🙏💯 pic.twitter.com/arMCvJOx6u
— DAZN USA (@DAZN_USA) April 30, 2019
What are your recommendations for how to recover your body after a major fight?
Just rest. There's a lot you can do recovery wise—massages, getting into ice baths, getting treatment and all that. My best advice is a lot of rest. Sleeping is simple, but it's so important.
Can you put into words the feeling of winning a world title?
It's very difficult to put into words, but it's a dream come true for every fighter. It's just an unbelievable feeling.
The Canelo Alvarez Boxing Workout (from his fight against Julio Cesar Chavez Jr.):
Jog (warm-up): 10 Minutes
Mitt training
Jab, cross, jab cross combo: 45-second rounds/3 rounds
Jab, jab, right uppercut combo: 45-second rounds/3 rounds
Jab, cross, left hook combo: 45-seconds/3 rounds
Jab, jab, right hook, left uppercut: 45-seconds/3 rounds
Jump rope
Forward jump: 90 Seconds
Alternating (from one foot to another): 90 Seconds
Single jump
Left foot – 30 Seconds
Right foot – 30 Seconds
Repeat sequence 3X